07-21-2021, 09:43 AM
I was wondering why they
HADN'T
been
devouring
me this summer.  Having INCREASED my B-complex intake of late, I NOW know
WHY!

Never get bit by mosquitos again
Steve Kroening, ND
July 14, 2021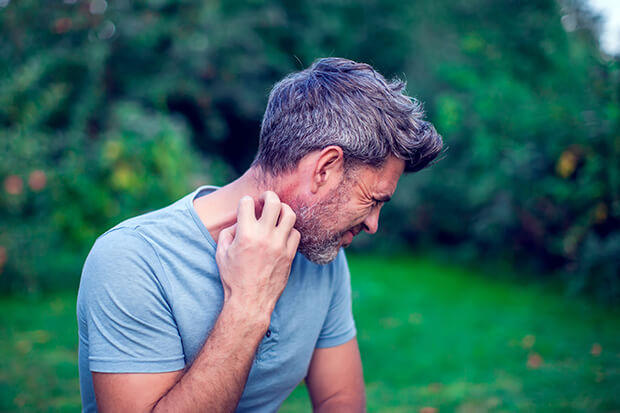 Quote:Have you ever wondered why mosquitos love some people, but won't touch others? The reason is actually quite simple. It's body odor.
This isn't the body odor your deodorant fights. It's a general odor that mosquitos find irresistible.  Mosquitos can detect these odors from up to 45 feet away. If you smell tasty, then they bite.

So the best way to avoid mosquito bites is to change the way you smell. This is what spray-on repellants do. They change the way you smell – temporarily.
Unfortunately, you have to keep applying the repellants – or your natural smell will return.

Wouldn't it be great to naturally change the way you smell to mosquitos so you never have to worry about getting bit again? And wouldn't be great to never have to apply repellant again?

It is possible.  Here's How You Can Do It

There's a lot that goes into how you smell. It's a combination of genetics, blood type, diet, things we put on our skin and clothes, and a bunch of other chemicals (such as carbon dioxide, lactic acid, ammonia, carboxylic acid, and octenol).  This combination produces odors that are either attractive or repugnant to mosquitos. And different species of mosquitos are attracted to different smells.

However, there's one smell almost all mosquitos hate. It's the smell produced by vitamin B1, or thiamine.

Here's why it works: Vitamin B1 is soluble in water. So when you take a dose higher than what your body needs, your body excretes it in your urine and sweat.  This "discarded" thiamine produces an odor that is unbearable for mosquitoes. They hate it!

Why does vitamin B1 change the way you smell? No one is 100% sure. We know it fights lactic acid (one of the chemicals mosquitos love). We know it affects bacteria in the body and on the skin. Both of which may affect the way you smell.  And we know it fights skin disease, so it might also prevent the itching if you do get bit.

Unfortunately, there haven't been many studies on B1 and mosquitos. And the ones we do have were poorly conducted.  Despite the lack of good science, people swear by it. One person said:

"Mosquitoes love me. I used to go to a lake in Ontario for a couple weeks each summer. The fishing was awesome, but the mosquitoes were big and plentiful and would bite me, leaving lots of raised welts that itched like crazy. "Then my aunt (an OR RN) told all of us to start taking vitamin B1 (100 mg once a day) for two weeks before we leave for Canada. It worked like a charm. Mosquitoes would descend upon our boat and land on my bare skin and then take off without biting! I was able to enjoy fishing without being bitten once. I swear by the vitamin B1."

Another person said they take extra thiamine every day from April through October. And, as a result, they haven't had a mosquito bite in over 30 years.  And yet another person said, "For the last 20 or 30 years, I have been taking (along with other vitamins) a half tablespoon of Brewer's yeast. Since I started taking this every morning I have never been visited by any mosquitoes." Yeast is filled with B vitamins.

Here's What You Should Do

If mosquitos love you, give vitamin B1 a try. If it doesn't seem to work for you, try a higher dose. It's incredibly safe. There's no known toxicity level for this vitamin. Because your body can expel it easily, it would be hard to overdose.  Even at high doses, it doesn't pose any risk for pregnant or lactating women, nor for children. Although children probably don't need as high of a dose for it to be effective.

You can buy vitamin B1 in tablets up to 500 mg. Take 1 tablet daily and enjoy the outdoors bite-free this summer!
Meet ya' at the bridge.