---
Building flashlights - The War Wagon - 08-30-2019

I'm only about 15 years behind the times on this, but

I

just

discovered flashlight building... so

I'M

having fun!

So I

FINALLY

got around, to putting this ancient LPC (the

forerunner

OF Surefire!
) lighted forend on my Benelli M1 Super90...




Pop in the batteries, and... wow... how

UNDER

whelming.  
  The old factory lamp, throws about 65 lumens; just

slightly

dimmer

, than the faded, yellowed, domelight, in my '92 Ramcharger.
  I mean, I understand, that a shotgun light is a bit different than a pistol or carbine light - you wanna SEE the room, not BLIND it (OR you!), but holy crap!  I can barely see the end of the

gun

with THIS! 




Soooo

... I e-mail Surefire, and they recommend the latest 1,000 lumen LM2-B light!  At several hundred dollars, too.  
  So it's time to start surfing gunboard sales ads.

Sure enough, I come across a nice LM2 (1st gen) LED light.  And at 200 lumens, it sounds JUST right!


  For $70 delivered from CA, I'm NOW in business!



Buuuuuuuuuut

... I keep reading (ALWAYS a dangerous thing...), and decide, that as BIG as the head unit is on the original light, maybe a lamp upgrade (it's a standard P60) would be a better use of THAT light.  So what to do with the LM2?

Turns out, Surefire used to make THIS little gizmo - the A21 body tube extension.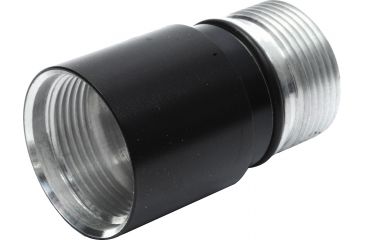 Just screw it onto a 6p

sized

light body, and then add a tailcap, and VOILA - INSTANT flashlight!

After winning this off fleabay, I also found an old z41 twist tailcap, with MOMENTARY on/off.


Since I already have polymer G2 with the same cap, I'm now in the market for a z58/z59 clicky tailcap, to really complete the light as I'd like it.

With 200 lumens, it's PLENTY bright.




I've gotten

waaaaaaaaaaaaaay

behind on "light technology" - I can remember when 90 lumens was a BRIGHT light!  I'm now cranking 400 lumens (INFORCE) on my Bren 805, 700 lumens on my HD rifle (also INFORCE), 500 lumens on my Benelli, and 400 lumens on another AR.  And 200 lumens for when the power goes out, is pretty cool, too.

Yeah,

I know

- welcome to

2005

.
  But building (or RE-building) flashlights, is a great way to upgrade your zombie spotters, before they bump into YOU in the night!

And as a note - you can add the A21 extension to a 6P, and turn it into a 9P, with the right lamp.  That extension holds

another

CR123 battery.


---