12-10-2012, 11:12 AM
Well
...
ALMOST
...
It is slowly, but surely, coming BACK to life. After sitting in a shed for the better part of 7 years, I've finally gotten the help and resources needed to at least try and get it to pass state inspection!
Here's what I inherited back in the fall of '06 - and it had mostly been sitting for a year & a half at THAT point, after being a daily driver for most of its life.
A nice, but tired, 1992 Dodge Ramcharger LE150 - 318 V-8, MPFI (
AMAZING
, since Dodge went to the
TBI
last
of all the Big 3 - I still
expected
to see a TBI on this one!), 727 Torqueflite, NP241 Transfer case, 9 1/4 rear end - indeterminate front axle at this point (I'll post the vin code and data plates on here for Dodge experts to chime in on), and 135,000 miles - not a
few
of which were
Pittsburgh-to-west-Texas
road trips, where the original owner was from.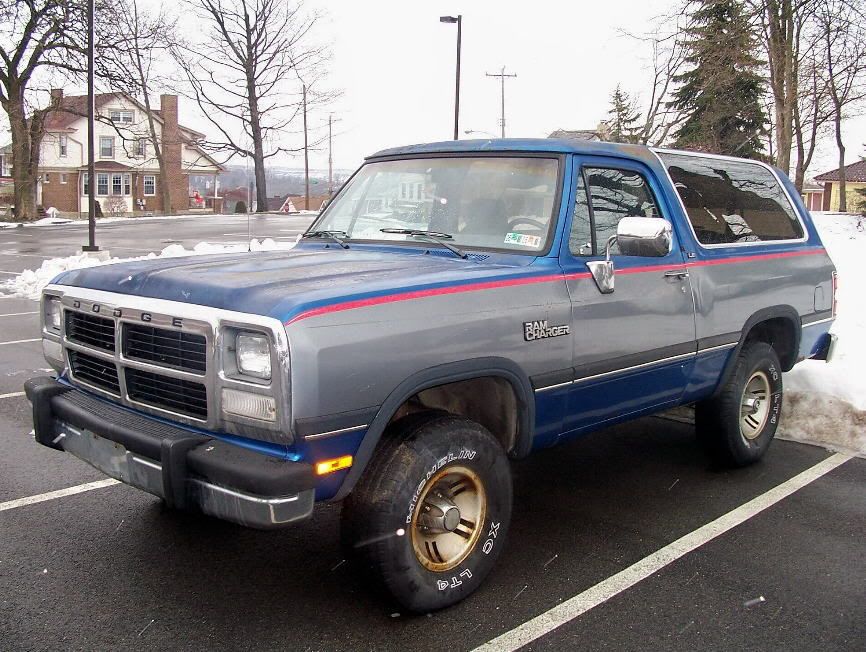 I inherited this beast in the fall of '06, with the INTENTION of making it a trail rig, as the factory 11mpg city/13mpg highway was a bit much for a daily driver... so last year, I promptly bought a Jeep Commander for a daily driver, that gets
10.5
mpg city...
THAT said, my local mechanic offered to work on it as a side project at his house, as he knew my children were Autistic, and he wanted to help. I bought the parts, and he did the labor for free. That worked well... for a while... until he took a job in the Marcellus shale fields a few years ago. So my truck just sat in his shed for a few more years.
I'd already bought a
complete
4 1/2 Rough Country lift kit for it from TopGunzzz Customs down in TN, as well as five (5) Courser M/T 36" tires for it, and five (5) 15x10 Pacer custom wheels (wanted the matching full-size spare, obviously), and those were still sitting in the garage of my local Goodyear dealer.
I'd also bought from Kennesaw Mountain Products in GA (now Tactical Armor Group) a custom rear bumper, with an INTEGRAL swing-out tire gate, built to spec to haul a 36x15x10 spare around on (also has a Jerry can holder, hi-lift jackstorage, cb antenna mount, license plate frame, and D shackles. That was a cool $750, and it was still shrink-wrapped to the pallet it was shipped on - sitting in an empty classroom of my church for the past 5 years!
Nonetheless, I didn't see a lotta future for the old gal, and was thinking of either scrapping or selling it as recently as this May, but a new member at my church offered to help, after we got to talling about cars one day. He owns a custom shop in Carnegie, and does all manner of metal fabrication there. I told him I had all the parts - just need the lift kit installed primarily, and I'd take care of the rest, but he decided he wanted to do more - including bodywork, sanding, primering, painting, and even building a custom front bumper and new exhaust system for it!
In early August, he took his rollback over to my former mechanic's house, and picked up all the pieces. Here's a small photo retrospective of his work to date!
Passenger side UP!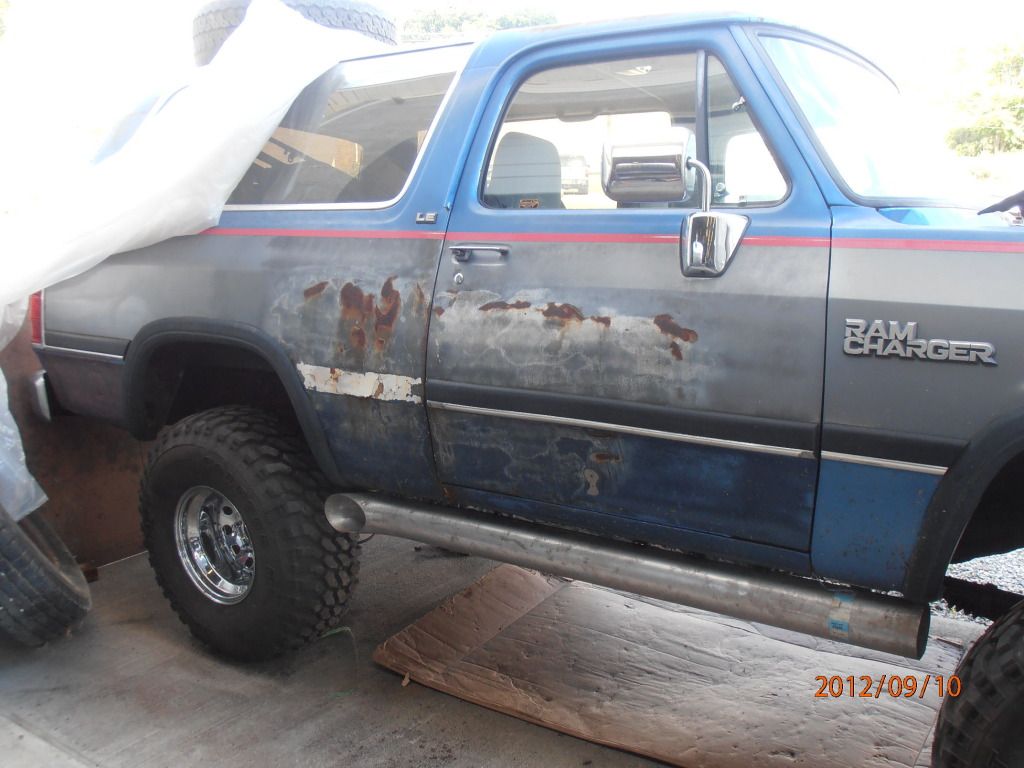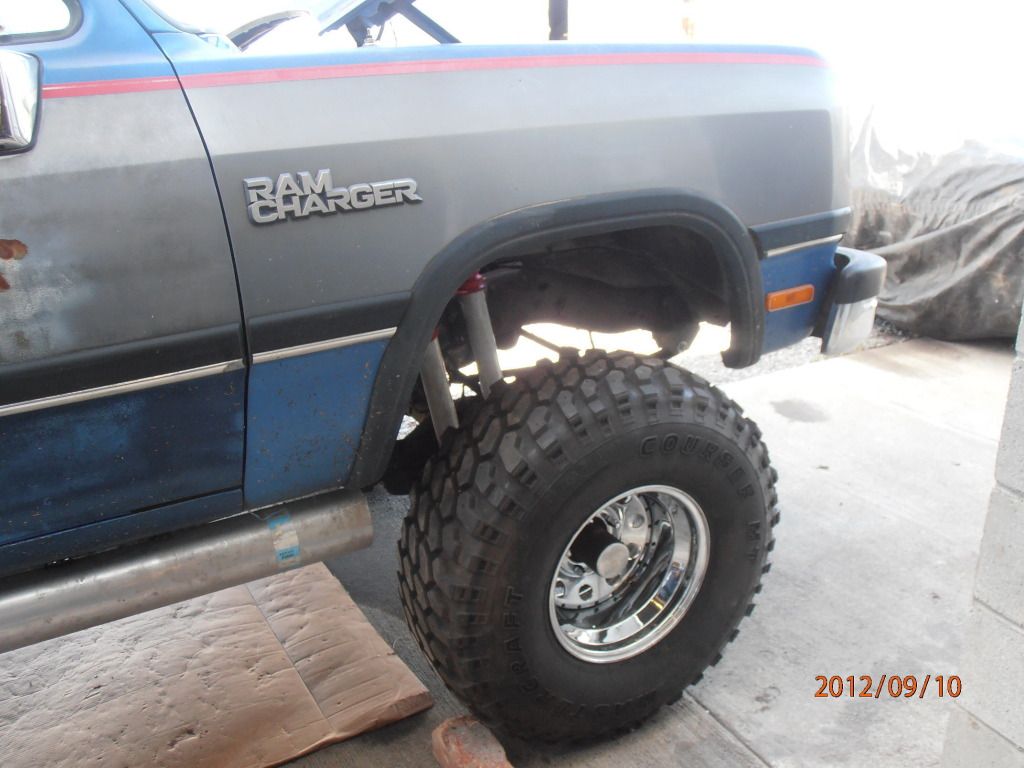 Interior needs work
now
(some of the "handiwork" by moi - with a stereo HALF
(

ass

)
-installed...
)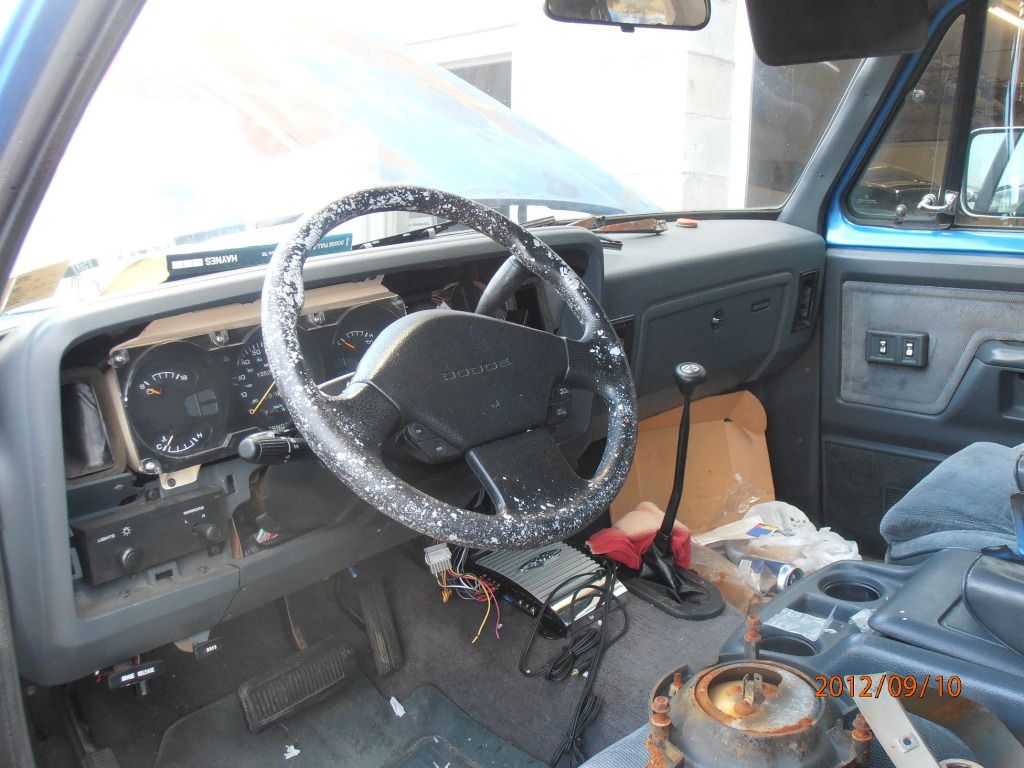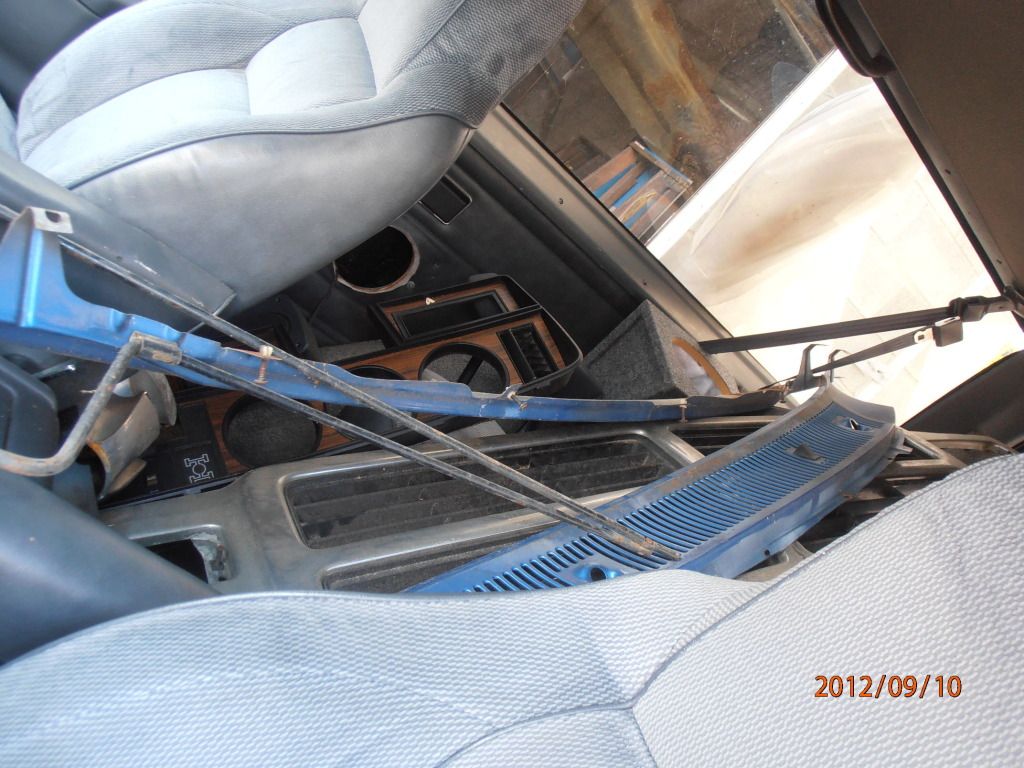 Of course, a LOT of its own parts and pieces are being stored inside
itself
at this point, too.
Lift is done!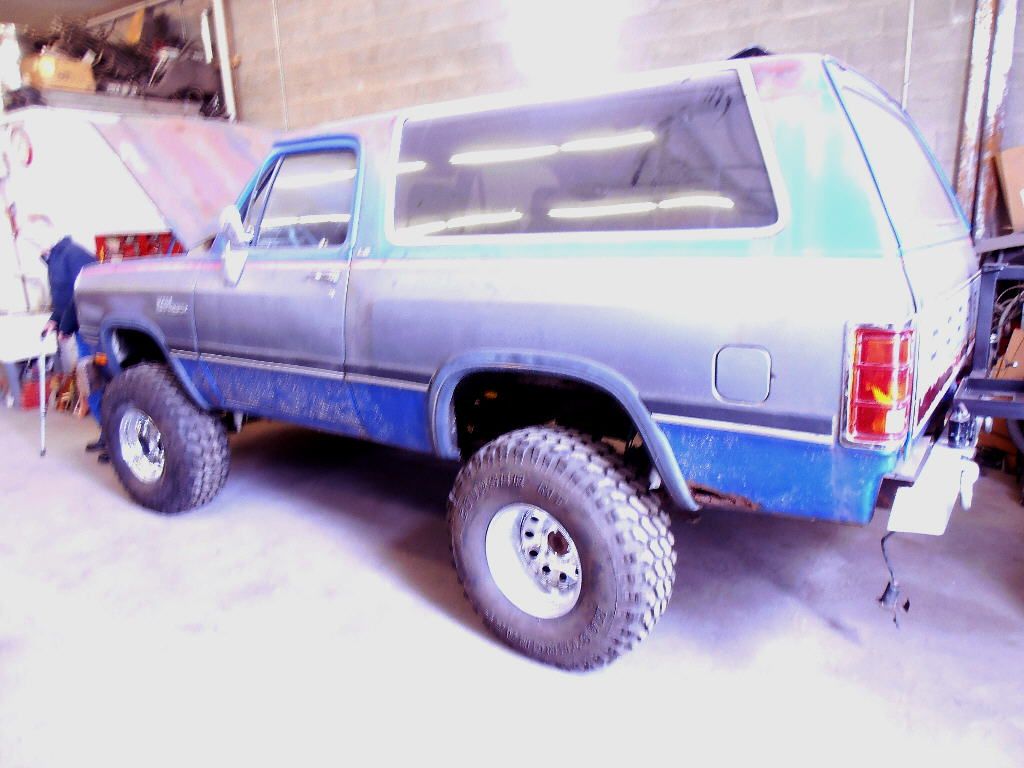 Some closeups of this custom front bumper (spot welds and temporarily clamped to evaluate fitment)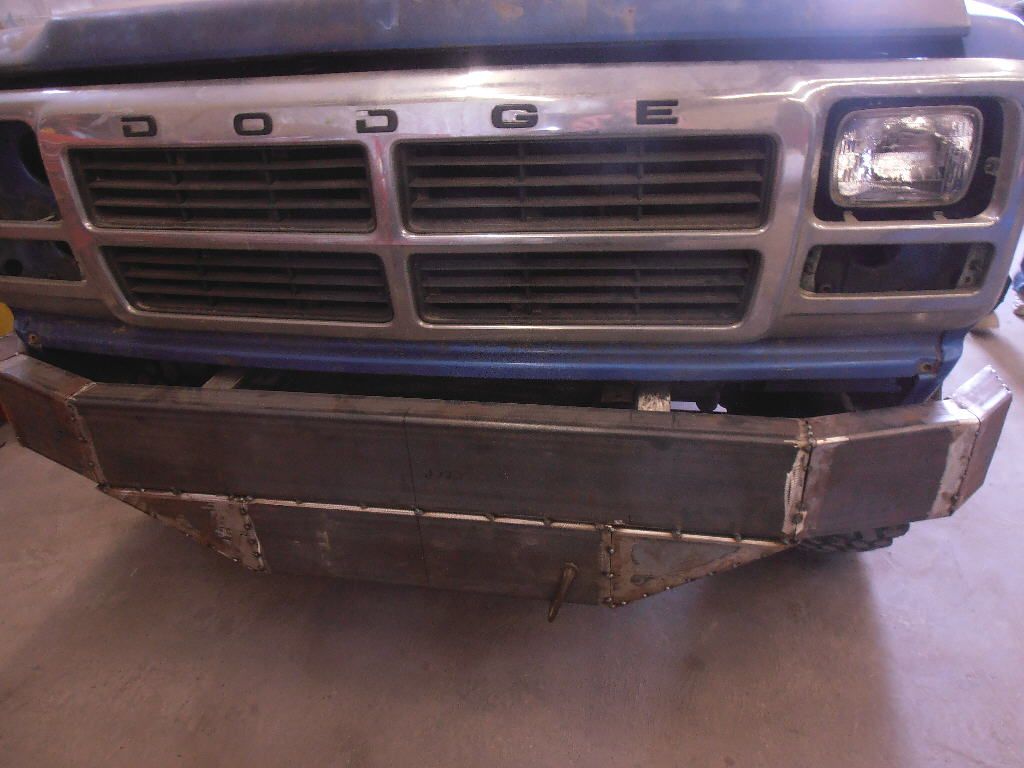 Made of box steel, it drops low enough to pass state inspection - the center part will be cut out, and a shelf installed, suitable for mounting a winch recessed into the bumper!
Bumper is now finished, save for setting up the recessed winch mount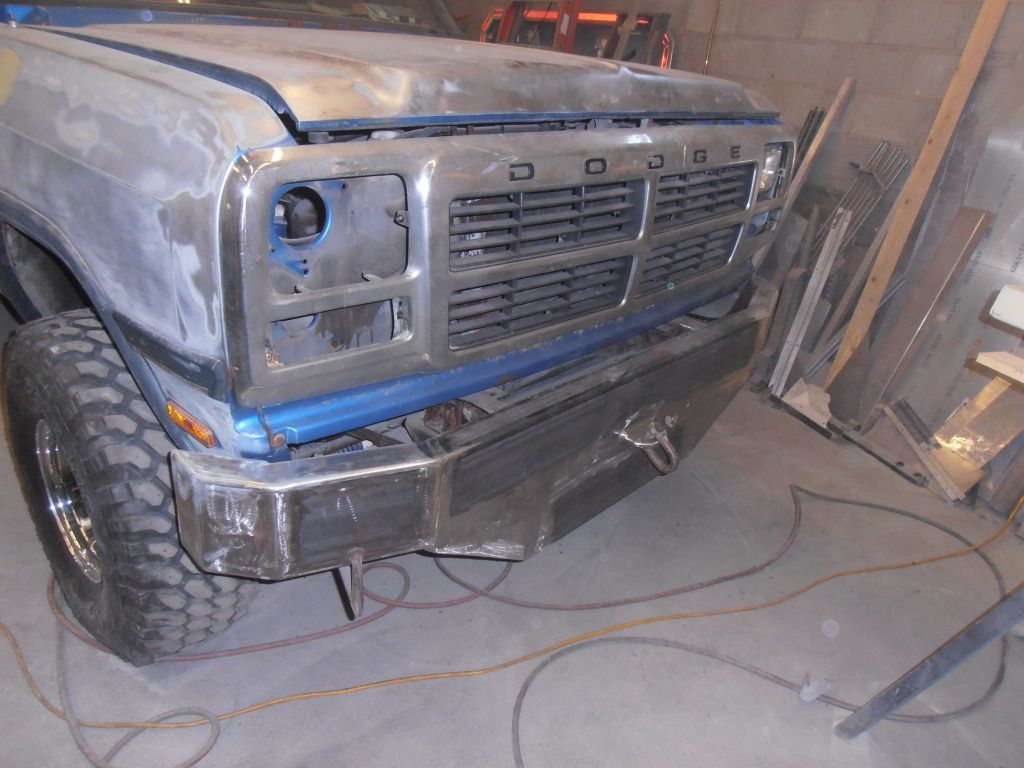 ---
Here's some pics from last week - it's now bondo'd (
meh
... it's a trail rig
) - and almost ready to be painted!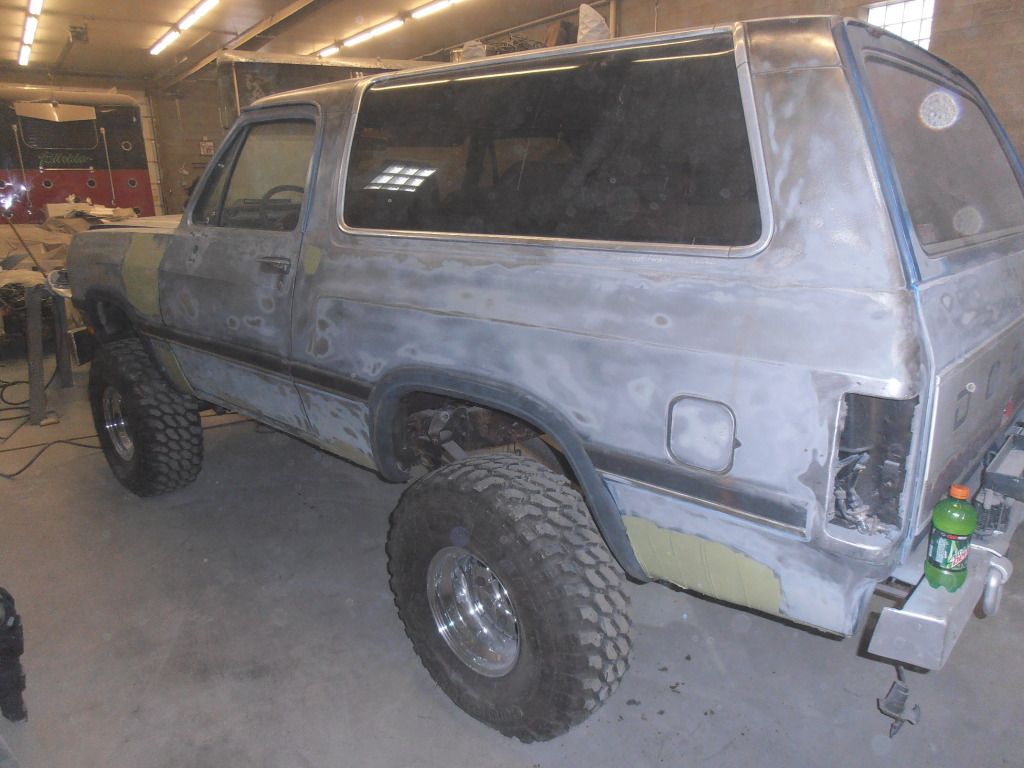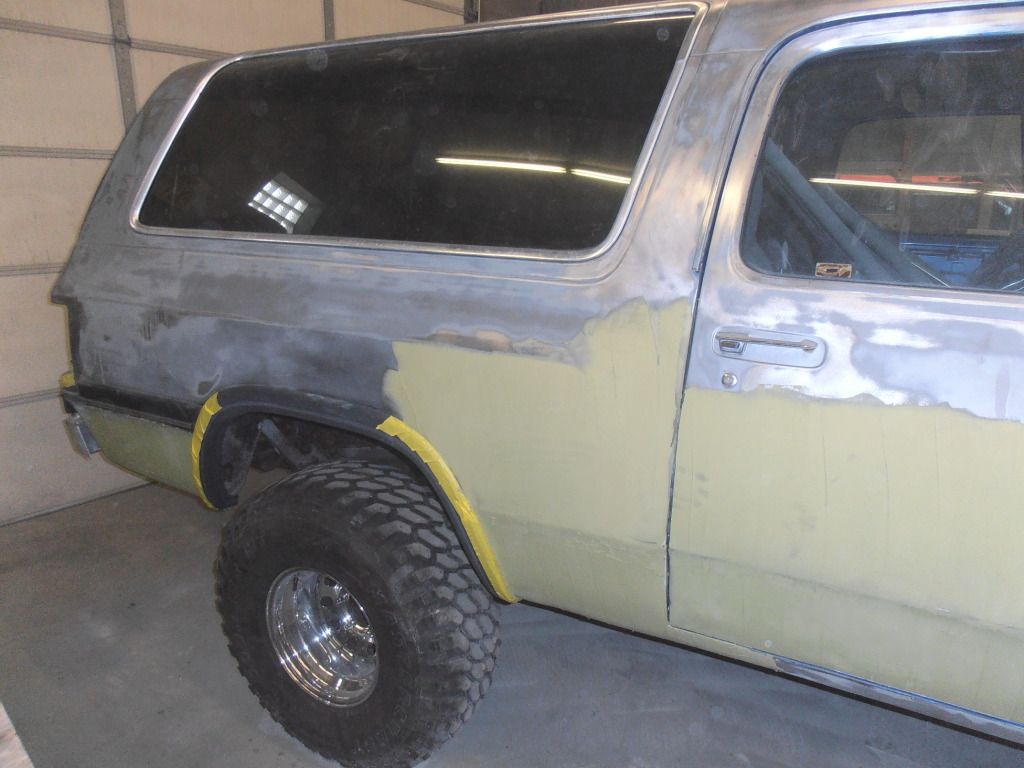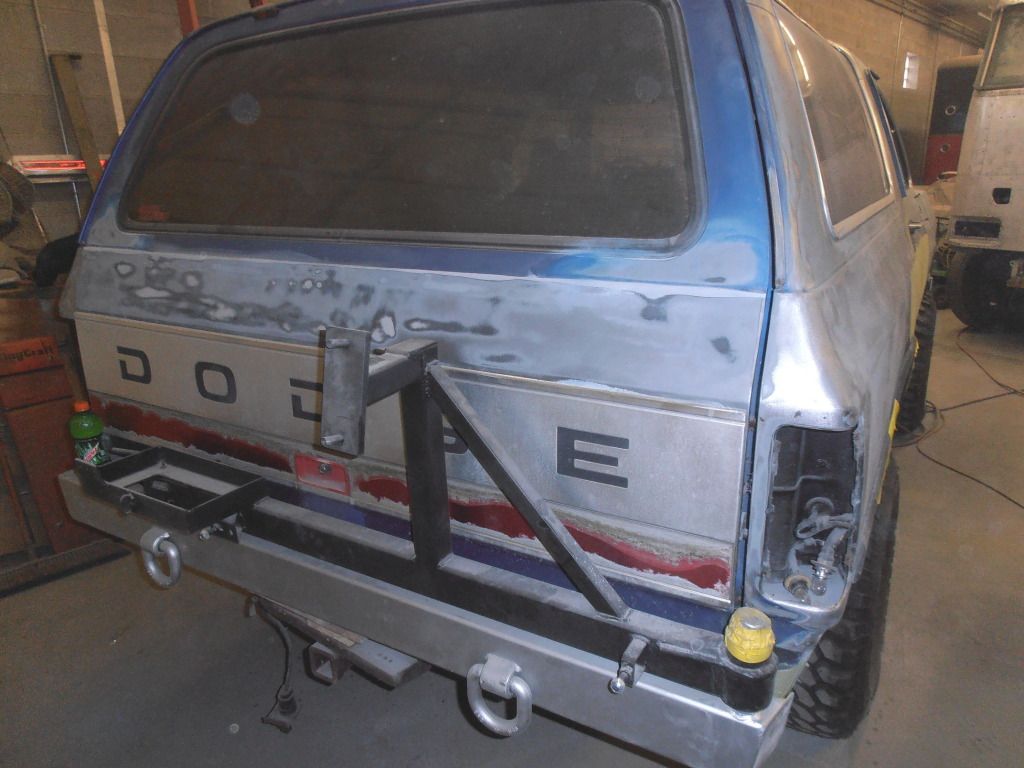 You get a good look at the custom rear bumper this way!
It's getting down to the nitty-gritty now - it gets painted this week (to sand, primer, and paint this monster would be $4k+ at any reputable shop. I'm getting it for free, but STILL don't know what color it's going to be!
I know "silver" will be a large part of it, but beyond that...
Beggars of course, don't get to be choosers!), and then it's off to Monro Muffler for new brake and fuel lines (the originals rotted away), and whatever other work we need to get it to pass inspection at THIS point.
Assuming Obama doesn't confiscate ALL our tax refunds this year, my INTENTION is to do a ring & pinion swap (4.10's - currently 3.50 geared) and add a Transpak/Shift kit to the 727 this spring. I might splurge for the winch at that time, too. Long range plans include tearing down the engine (which still runs strong, holds compression, etc.), adding machined 360 heads (turning the 318 into a 340, essentially), new pistons, torque-ier crank, etc. I've got some Warn lock-out hubs ready for it too. ANY extra mpg's in THIS beast will be appreciated, and I figure the lock-out hubs will make GETTING to the outdoors a
little
less costly!
I'd like to do re-do the interior completely (droopy headliner has GOT to go - welcome to the late 80's/early '90's and the droopy headliner flashback!
) - doing the seats in some sort of faux leather, that cleans up easily. I'd LOVE to tear out ALL the carpet and just rhinoline the entire floor - make it so you could run a hose and WASH the truck out... but that may not be ENTIRELY feasible, given how many
wires
run along the floor in even a '92 truck. I think I WILL rhinoline the cargo area though, as this will still be our Boy Scout War Wagon - suitable for throwing backpacks, gear, chuckboxes, and the like into. Getting that factory spare OUT of the cargo area REALLY opens 'er up back there!
It'll be a zombiecrusher for certain - a good BoV, if it comes to that. But she's DEFINITELY a zombie herself, having come close to the scrapyard THREE times now (it got hit in the passenger side when the original owner had it, but he refused to have it totaled, and got it repaired instead - when he passed away, his wife was about to scrap it, when she offered it to me instead. I
ALMOST
scapped it this spring, but found some much-needed help in the nick of time). It might
FINALLY
see the out-of-doors
yet
!
Here's those vin code/data plates/sheet, if anyone is an expert in reading these things - kinda give me an idea of what all I have here.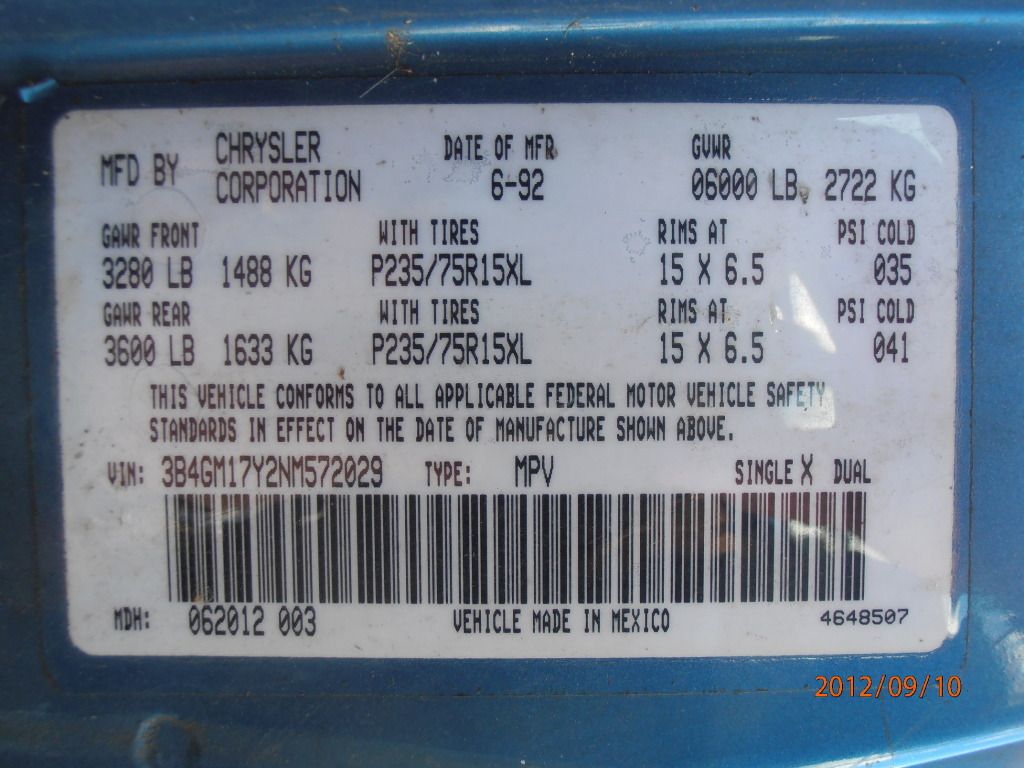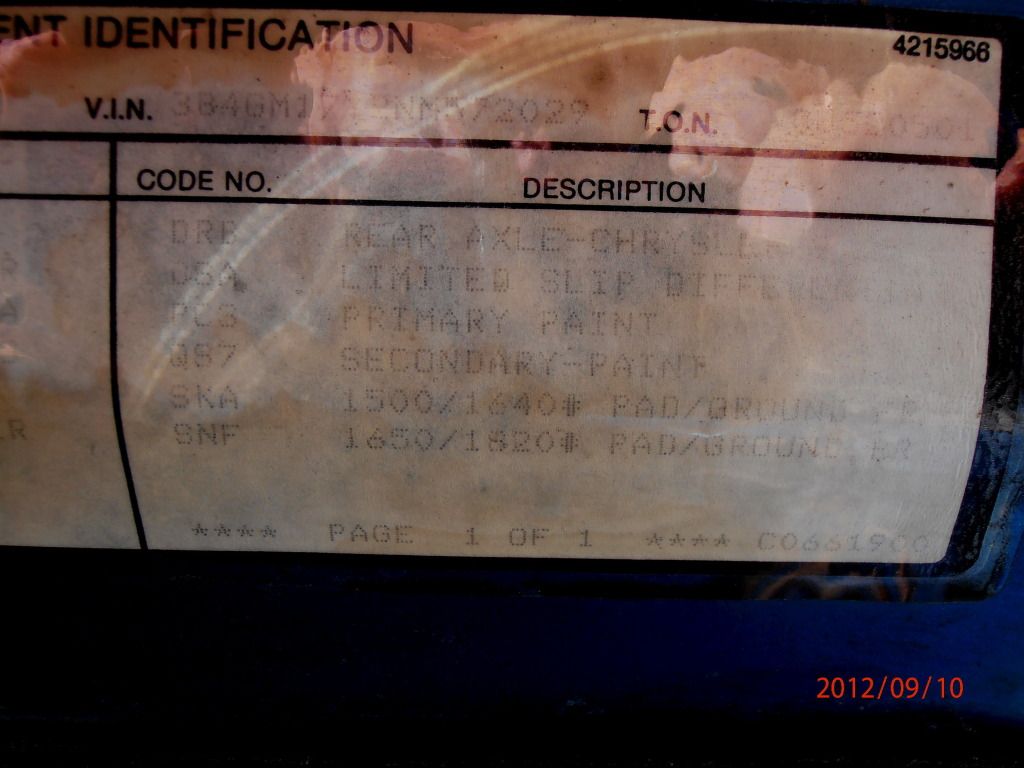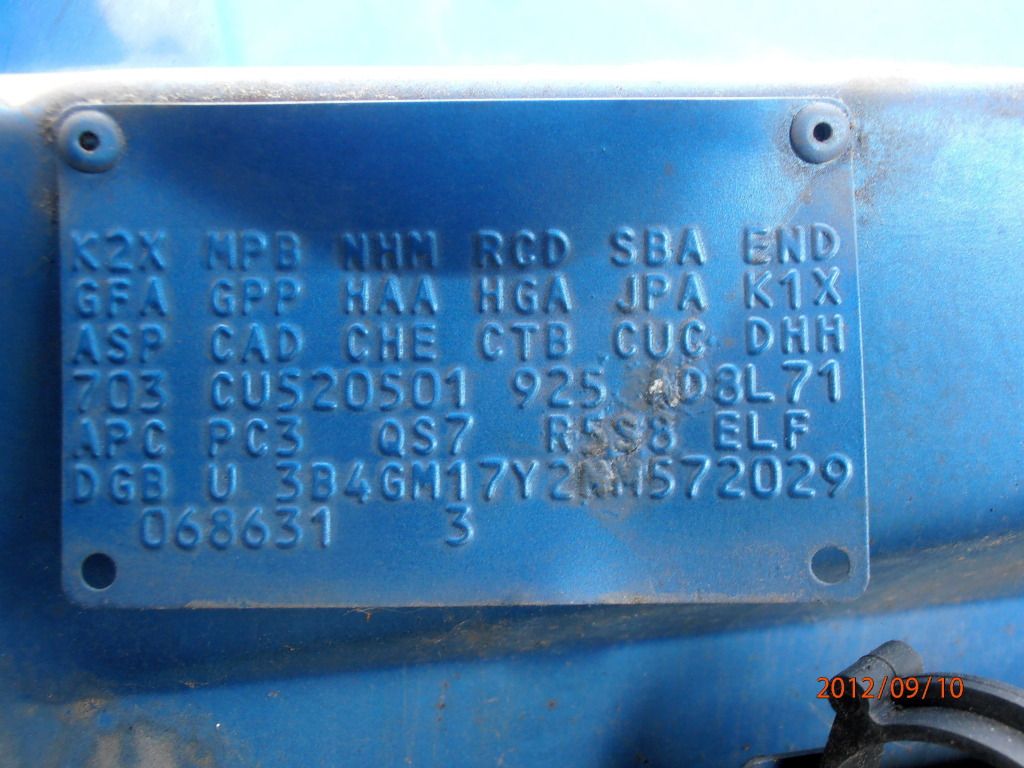 That sheet under the hood is REALLY faded, but I figure the same info is coded on the data plate.
Any & all feedback is welcome and appreciated. And if you're handy with a wrench, engines & drivetrains, and live in Sector 4 - gimme a shout!!!